I can't believe they've gone and told everyone:
LEELENAU COUNTY — Sleeping Bear Dunes is voted the Most Beautiful Place in America, according to a contest held on Good Morning America, where the winner was announced this morning.

"Tens of thousands of viewers voted online for this Michigan park, which is one of the nation's best-kept secrets," GMA said.

"The hidden gem boasts 64 miles of beaches along Lake Michigan, two islands, 26 inland lakes, more than 50,000 acres of land, and the monumental sand dunes from which it gets its name."
Anne and I were married there eight years ago this Sunday, right on the beach of Lake Michigan at a spot called Sunset Beach.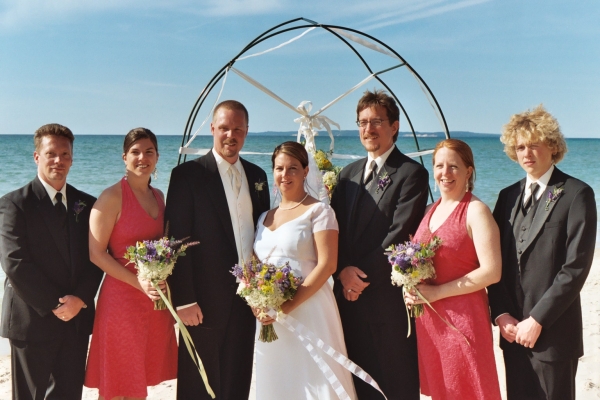 Eclectawedding on Sunset Beach in the Sleeping Bear Dunes, South Manitou Island in the background. (Yeah, that's me with actual hair.)
Beautiful in the summer but equally stunning in the winter. Absolutely FABULOUS cross-country skiing, too.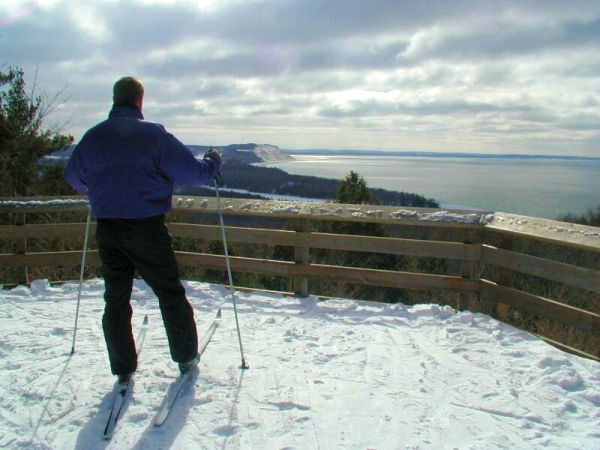 Eclectablog atop the Sleeping Bear via the Pierce Stocking Drive
Below is a photo of part of the so-called "Ghost Forest". These are the tops of centuries-old cedar trees that were covered by shifting dune sands and are now being uncovered as the sands continue shifting.
We're headed up there Friday as we do every year on our anniversary. We'll spend the evening of our anniversary drinking sparkling wine from the nearby L. Mawby winery, watching the sun set and … stuff.
Heaven. Right here on earth. Right here in Michigan.