This was first posted at an earlier version of this blog in 2007. Today, we're going to process 100 jalapenos into these remarkably awesome stuffed peppers so I thought that I'd repost it. Enjoy.
---
At long last, I'm finally getting this recipe up. We do HUGE amounts of these at once but the recipe is for 15-20. The photos are from last year's harvest and marathon pepper stuffing event. A Microsoft Word version of the recipe (sans photos) is HERE.
These "poppers" are baked, not fried. They are unbelievably delicious. I highly recommend them. You can also use the filling to stuff Roma tomato halves which is equally delicious.
So, without further ado, I present to you:
Eclectablog's Stuffed Jalapeno Poppers
Photos by Ms.E

Ingredients
15-20 jalapeno peppers (or other chilies if you like milder ones)
8 ounces (225 grams) cream cheese or Neufchatel cheese
2 cups (473 mL) shredded cheddar, Monterey Jack, or other cheeses (I like Kraft's "Mexican blend")
2 teaspoons dried oregano or 2 tablespoons (30 mL) fresh, chopped
2 tablespoons dried parsley or ¼ cup (60 mL) fresh, chopped
¼ cup (60 mL) chopped fresh cilantro
½ (120 mL) cup minced onion
1-2 cloves garlic, minced
2 eggs
½ (120 mL) cup milk
1 cup (236 mL) flour
2-3 cups (473-710 mL) of breadcrumbs (Use good quality, not generic brands. The ones with Italian seasoning are best. Fresh are even better.)
Instructions
0. Put on gloves before handling hot peppers. Before continuing, check hands to ensure they are covered with gloves. Do not proceed with cutting hot peppers without gloves on. Ready? Good. Check hands one more time, just to be sure.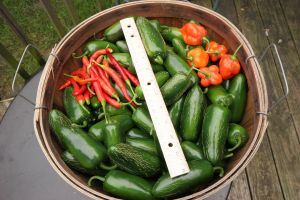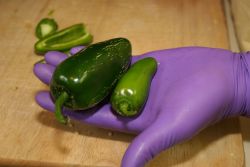 1. First, harvest your peppers (or buy some.) We grow both Biker Billy hybrids from Burpee (which are much larger than the average jalapeno see photo) as well as normal ones.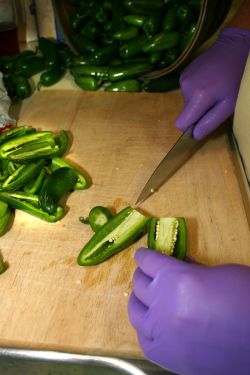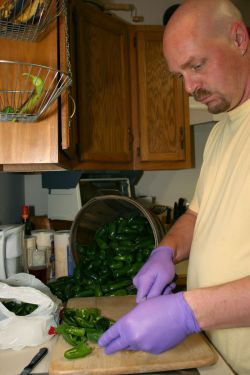 2. Slice the stems from the peppers and cut in two lengthwise. Remove seeds and veins. Notice the gloves, people. USE THEM!!! (See Step 0.)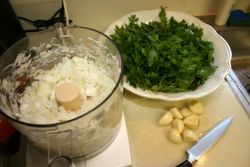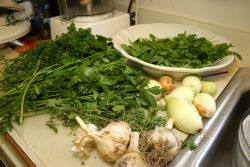 3. Prepare the spices and herbs and garlic and onion as directed. When making large batches, we use a food processor.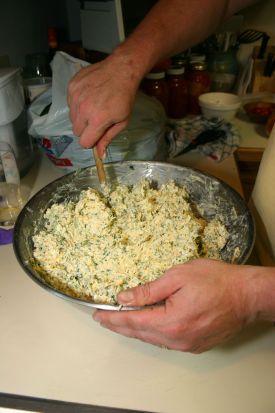 4. Mix cream cheese, shredded cheeses, spices and onions in a bowl until well blended. Make sure the cream cheese is plenty warmed because this step takes some elbow grease.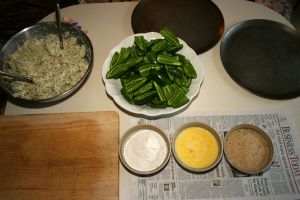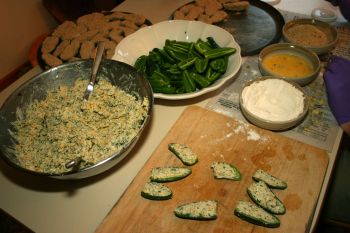 5. Fill each pepper half with cheese mixture. I use a butter knife for this step.
6. Beat eggs and milk together. Dredge the pepper in the flour to lightly coat then dip the pepper into the milk/egg mixture. Next, coat the peppers with breadcrumbs. A good method for coating with breadcrumbs is to put the crumbs into a small bowl. Make a shallow well in the crumbs and put the pepper into it. Bury the pepper in more crumbs then press down gently. Grab the pepper lightly on the edges and remove it from the crumbs, shaking it lightly to remove unadhered crumbs.
7. Place the prepared peppers on a greased cookie sheet and bake for 30 minutes at 375°F or until golden brown and bubbly. You can also bake them for about 20 minutes then freeze them. Reheat at 400°F until browned, about 20-25 minutes.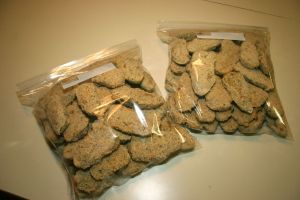 Note 1: This is also good substituting small roma tomato halves in place of the jalapeno peppers.
Note 2: You can make these blazingly hot by mincing up some or all of the seeds and veins you removed in step 2 and mixing them back into the cheese mixture in step 4. Careful!
I'm just sayin'…
---
If you enjoy what you're reading here, please consider sharing it on your Facebook page or submitting it to Reddit or other sites using the links provided under the "Share button" below. Thank you!