Here a pol, there a pol, everywhere a pol pol(itician)
I'm at the 2012 Michigan Democratic Party Endorsement Convention at the Cobo Center in Detroit where the MDP will choose a host of candidates to appear on the 2012 ballot.
Here are some scenes from the event.
The vendors area doing a brisk business:
Congressman Gary Peters: for the newly-drawn 14th Congressional District.
The Protect Our Jobs table:
Lance Enderle, candidate for Congress in the 8th Congressional District:
Karla Swift, president of the Michigan AFL-CIO giving training on the Protect Our Jobs ballot initiation petition drive:
Shelia Johnson, Bridget Mary McCormack, and Connie Marie Kelley, "The Three Supremes", a slate of Owen running for the Michigan Supreme Court and endorsed by both the Labor Caucus and Justice Caucus, speaking to the Justice Caucus audience:
Candidate for Congress in the 14th Congressional District and Mayor of Southfield, Brenda Lawrence:
Some scuttlebutt heard during the day:
Moderate Republican Joe Schwarz is being recruited to run as a Democrat to against Congressman Tim Walberg in the 7th Congressional District (again). Schwarz was defeated by Walberg in the GOP primary a few election cycles ago, thanks largely to a huge infusion of money and support from Americans For Prosperity.
Steve Pestka, who last week announced his candidacy in the 3rd District Democratic primary for Congress, initially supported the candidacy of already-announced Trevor Thomas. However, after Thomas's polling numbers showed Tea Party member Justin Amash vulnerable, Pestka decided to jump into the race anyway. Thomas has his formal "Campaign For Us All" kick-off tonight in Grand Rapids and will be introduced by former Kent County GOP Chair and McCain Michigan Campaign Chair Bob Eleveld. Thomas appears able to overcome the anti-choice Pestka's argument that he is the more moderate candidate and, therefore more electable. In a year when the attack on women, including control over their own healthcare decisions is driving them away from the GOP and towards Democrats who support a woman's right to choose, I'm inclined to agree.

Seriously? An anti-choice Democrat???

Lance Enderle, seeking to oust Republican Mike Rogers in the 8th District, will be hitting Rogers hard in the coming weeks for his recent "no" vote on an amendment to an energy bill that would ban "new oil-and-gas slant, directional or offshore drilling in, under, or within five miles of any of the Great Lakes or the Florida Everglades." Rogers claims to be against drilling for oil & gas in the Great Lakes. Enderle says that vote shows he is a liar.
Progress Michigan appears to be nearing a decision on a replacement for Director David Holtz who is retiring in the next year. Several other Progress Michigan staffers are moving on this year as well, taking new positions with other progressive/Democratic groups, a natural progression in the non-profit sector.
The Michigan Democratic Party will not be supporting a petition drive to put a renewable energy standard referendum on the 2012 ballot in Michigan. Don't want to alienate the utility industry and their affiliated unions, major Democratic donors, is what I'm hearing.
More after the jump.

Trevor Thomas, candidate for the 3rd Congressional District:
Sam Singh, candidate for state House:
Hansen Clarke, candidate for Congress in the 14th District:
Congressman Sander Levin:
Senator Carl Levin addresses the Convention: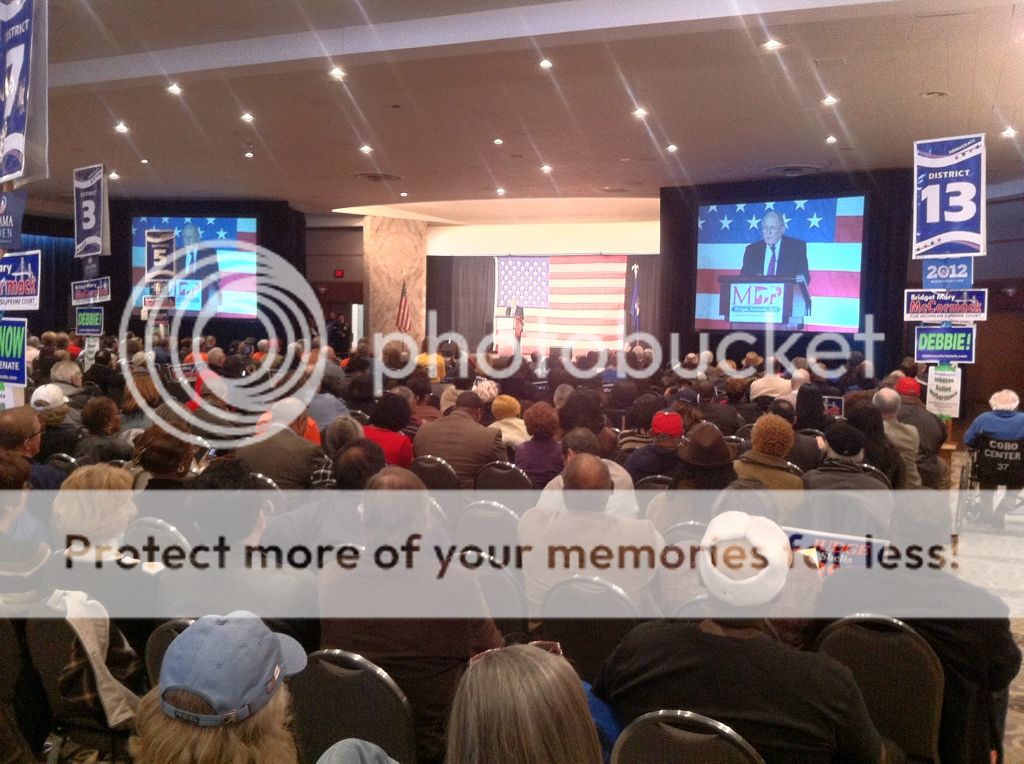 "I don't think President Obama will even need to make new television ads this year. All he has to do is show reruns of the Republican debates."
UAW President Bob King just informed the crowd that the UAW is supporting the #99spring initiative and is helping with the upcoming trainings being held nationwide April 9th-15th. More information on the 99% Spring website.
Jocelyn Benson talks about the effort she's leading to take corporate money out of Michigan politics, "The Corporate Accountability Amendment":
Supporters of Shauna Ryder Diggs line up, waiting for nominations of Joel Ferguson and Brian Mosallam for the Michigan State University Board of Trustees to take place:
Diggs is running on a two-person slate for the University of Michigan Board of Regents with Mark Bernstein.
Nominating Diggs is Senate Minority Leader Gretchen Whitmer who took the stage saying, "It's great to be in a room where I'm finally with the MAJORITY!"
Running for the State Board of Education are Lupe Ramos-Montigny and Michelle Fecteau.
Running for Wayne State University Board of Trustees are Sandra Hughes O'Brien and Kim Trent (Trent was nominated by Debbie Dingell.)
All of the candidates, along with Shelia Johnson, Connie Marie Kelley (nominated by by Congressman Sander Levin and her husband Kevin), and Bridget Mary McCormack for Michigan Supreme Court are approved/endorsed.
That's a wrap, kids. It was a good convention. No acrimony or self-defeating intra-party battles. As any Mark Brewer-run convention is, it was orchestrated well in advance so that there would not be any surprises. This year, that was fine. It made it run smoother without disenfranchising anyone or any group and Michigan Dems seem energized and ready to fight to win in 2012.
Thank Goddess for that.
[All photos by Chris Savage/Eclectablog via the Magic iPhone]