I've been to two Netroots Nation conferences so far and, wow, what a rush. But, there is one thing about it that bothers me and I am not the only one: it's pretty much all white people.
Seriously. We are a lily white group of progressive conference attendees.
There is an effort afoot to help fix that and without spending a dime, YOU can help. Your VOTE can help us win a grant to send people of color to Providence for Netroots Nation 2012.
Last year at NN11, I met and became close friends with Lauren Reichelt (aka "TheFatLadySings"). I have met a lot of community organizers in the past few years but few of them have the passion and dedication that Lauren has.
Lauren attended NN11 with three colleagues from Rio Arriba County in Northern New Mexico. From her recent Daily Kos diary:
We attended the Native American and Latino Caucuses as well as workshops in community organizing, messaging, online tools, etc. Since then, we have hired a Public Information Officer, revamped our

County

and

health council

websites, even including a

blog

so that we can communicate directly with the public (unmediated by our Fox-like local paper).

David Trujillo and Lauren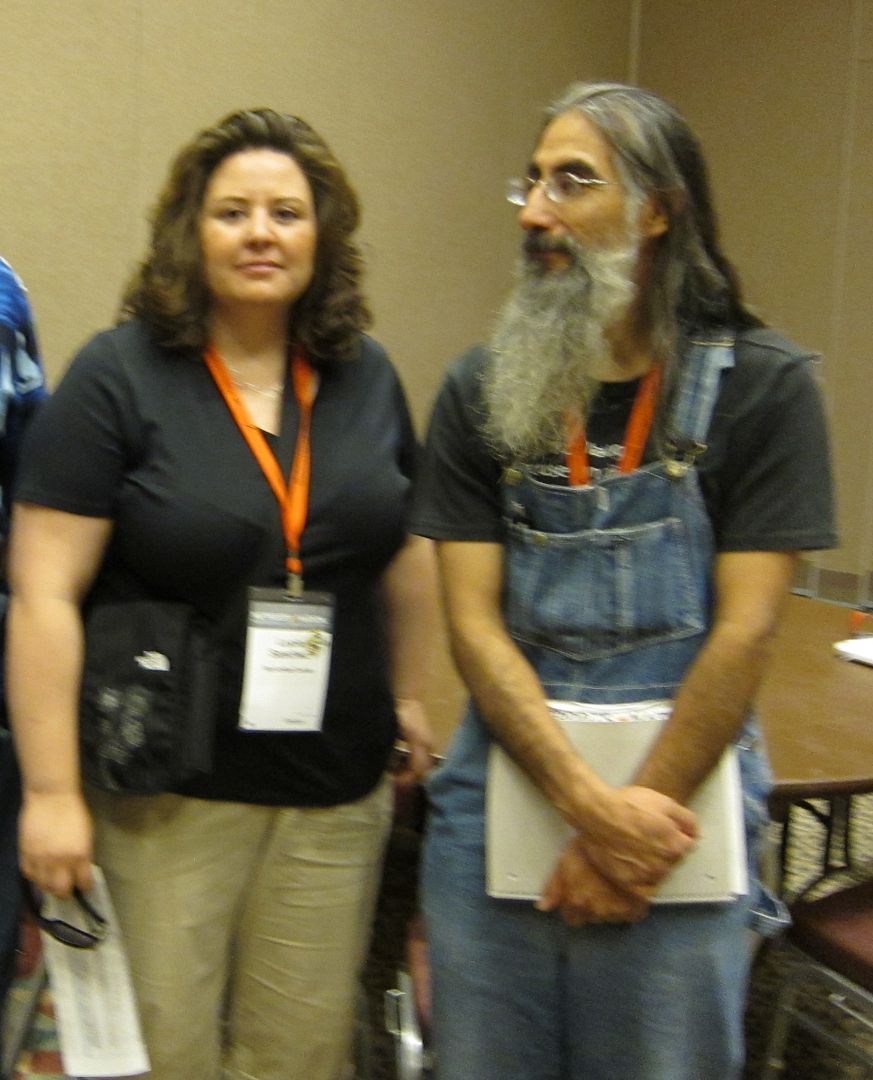 Lucia Sanchez and Raymond Ortiz
at the NN11 American Indian
Caucus last year
Lauren has been working with mindoca who is traveling to Rio Arriba County to work with Lauren's colleagues, teaching them to use and training others to use new media tools such as Twitter, Facebook and blogs. She'll explain their use in advocacy campaigns, marketing websites and blogs, community strengthening activities and legislative action.
In an effort to expand on these efforts and to increase the number of people of color attending Netroots Nation, Lauren has applied for a Pepsi Challenge grant on behalf of an organization called Communities Joined in Action (CJA). Again, from Lauren's diary:
Communities Joined in Action is a national alliance of community health coalitions working to end disparities in health care. CJA believes health care is a Civil Rights issue and it works to create Civil Rights facts on the ground by teaching coalitions in underserved communities to use the Affordable Care Act and other tools to insure access to quality health care among the poor, people of color, the homeless and other hard-to-reach populations.

This year, we have created a Marketing and New Media Committee dedicated to teaching coalitions to build power through community organizing, and to make use of online organizing tools. We have submitted a Pepsi Challenge Grant to bring 24 coalition participants to Netroots Nation in Providence, RI to caucus with bloggers and to learn on and offline organizing techniques.
Here is Lauren speaking about this project:
If funded, the grant will also send two members of Native American Netroots who would not otherwise be able to go to Providence. And NAN will help Communities Joined in Action to recruit American Indian coalitions as members.
So this is where YOU come in. Pepsi Challenges are easy and free. They just take some dedication because you can vote every day in December and that's what we need YOU to do.
Here's the Pepsi Challenge link: Lifting the Digital Curtain. Go there. Now. AND VOTE!
Like pictures instead of a text link? Click this one then!
Or this one!

But don't just vote today. VOTE EVERY SINGLE DAY IN DECEMBER!
And share it on Facebook. Every single day in December.
And tweet it to your followers. Every single day in December.
One more thing: We need diarists to help us promote this cause every day in December. Sign up for a day in the comment thread below.
Thank you so much.
[Photo credits: Neeta Lind (aka "navajo")]