Mrs. E and I have road tripped down to St. Louis, MO to visit her family for the holidays so blogging will be light for the next few days. Drinking, however, will not.
This morning we woke up to snowfall which is rather unusual for St. Louis so we're going to enjoy a nice, white Christmas in the Lou.
A couple years ago we made this trip on Thanksgiving and my Jetta diesel caught on fire by the side of the road: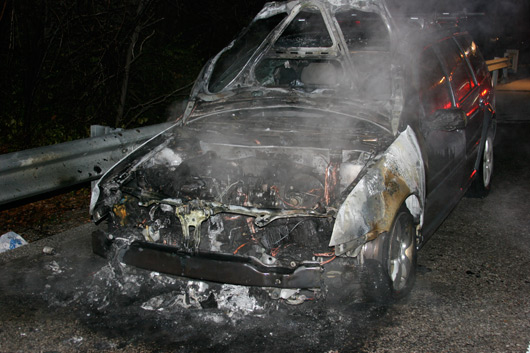 Write-up with more photos HERE.
Then, a couple of months later we came down for Christmas in our new car and ended up getting parked on I-70 just west of Indianapolis for seven hours during an intense ice storm.
So, needless to say, arriving safely in St. Louis is always a matter of no small relief to us.
Have a great holiday. Please consider this an open thread (I dread typing that because if nobody writes anything, it just comes across as lame ;) Also, too, don't forget about the Obama photomosaic poster special. More about that HERE
I'm just sayin'…