It's a bright sunny day in southeastern Michigan today. Yeah, we're reeling from 12+% unemployment. Yeah, our automotive companies are the latest whipping boy for what's wrong with the U.S economy. Yeah, our two biggest newspapers are not even delivering every day of the week anymore.
But today, for one day (or hopefully TWO!), we're putting that all aside to shout with one unanimous voice:
As NBC's Mike DeCourcy
wrote last week
:
Michigan could use a little levity right now, as you know. The state's economy is a disaster. It's in an eight-year depression, and counting. President Obama's work on the auto industry bailout was the headline item on Google News as the Spartans were finishing off their dissection of the Cardinals, as Izzo was subbing in his walk-ons and deep reserves to allow them to say they played in the Elite Eight.

Having a basketball team reach the Final Four will not fix any of this, not even a little bit. It won't put people back to work, won't get America buying Fords and Chryslers and Buicks. It might not even make everyone in Michigan feel good, given the large number of residents who favor the Wolverines. But it's something: A moment's respite from the crushing daily avalanche of negative news.

"This is the best thing for the state of Michigan," [Magic] Johnson said. "There's going to be a lot of Michigan State parties."
Yes, there are. Down on the Riverfront is one BIG (and free) party with N.E.R.D and Doc Holiday and Pussycat Dolls and Keith Sweat and Fergie and others playing free concerts. Lez Zepplin is even in town. All of Michigan – but especially Detroit – is abuzz with excitement and good cheer.
So, no matter who you picked for your bracket this year, howzabout a bit of love for the Spartans down in the Motor City?
All together now: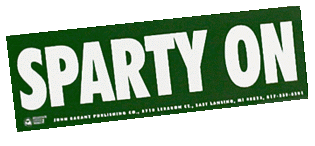 I'm just sayin'…