Several weeks ago, Mrs. E, with the help of our good friend Lynne Schwartz, transacted a poster deal with the organizers of the Michigan Ball in Washington, D.C. for 3,000 posters to be handed out as gifts to all of the attendees. Once that happened, it was pretty much a cinch that we would go to the inauguration and, of course, the Ball itself. The problem was that the weekend before the inauguration, her family had a beach house rented in Saugatuck, Michigan on the shore of Lake Michigan for a birthday bash in honor of Mrs. E's 40th. On top of that, a gallery in Washington, D.C. decided to show Mrs. E's poster as part of MoveOn.org's Manifest Hope show. This required us to be in D.C. on Monday afternoon.
Mrs. E's family agreed that, of course, she needed to be in D.C. for the gallery showing and were cool about us leaving a day early from the weekend party. On Saturday in the midst of our birthday celebrations (and libations) I received a Facebook note from my good friend Asmat informing me that he had two tickets to the inauguration that we could have if we wanted them. After I was revived from fainting, I responded that of course we would love to have them. We took off on Sunday afternoon, stopped to pick up the inauguration tickets, and then drove to Pittsburgh to stay with my brother for the night.
The next day we made it into Georgetown, home of the the gallery hosting the Manifest Hope show, but were exceedingly disappointed to find that through some snafu, Mrs. E's poster had ended up at the SEIU headquarters across town. They gave us directions and we hiked two miles only to find out they had given us the wrong address. We finally found where we needed to go, got a cab, and went there. Once there, we were even more disappointed to see her poster on the wall with no attribution, no contact information, not even her name.
We went back to the Manifest Hope gallery to find out what had happened. They felt bad but it was clearly too late to do anything. So, as a consolation prize, they offered us tickets to their inauguration party later that night, very hard-to-get tickets in D.C., for sure. We leapt at the chance and later that night, after waiting in a very cold line for an hour, we ended up going to the MoveOn.org Inauguration Party featuring Santogold and De La Sol. After they finished, Moby took the stage and mixed jams for the rest of the evening.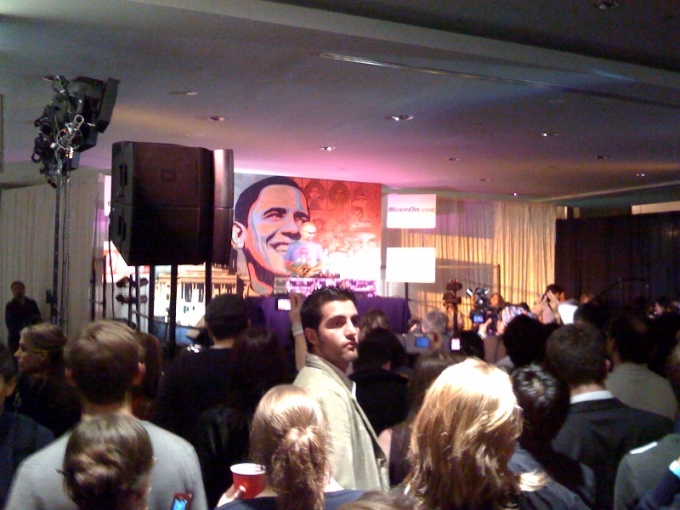 The artwork at the gallery was stunning, the Belvedere vodka was free and we had a great time despite the disappointment of Mrs. E's fabulous poster not being shown there. We left at about 1:00 a.m. slightly swervey and very smiley.
The next morning, four hours after we went to bed, we woke to continue our Inauguration Adventure. We left the condo where we were staying with family friends at 7:00 a.m. and headed for the Metro Blue Line station. It was nearly an hour and a half wait on the highway getting into the station, and another hour at the station before we departed. We arrived in D.C. proper at about 10:30 and immediately realized that we should probably have arrived about two to four hours earlier. We skirted the National Mall all the way up to the Capitol itself near the "Purple Gate" where our tickets would let us in. On the way, we passed lines to get into the Mall that were easily 40 people wide and two blocks long.
As we got within a couple of blocks of the Purple Gate, people were coming toward us saying, "Forget it. The Purple Gate is closed." Sure enough, as we got closer there was a throng of people moving nowhere fast. We decided to get as close to the fence as we could, hoping to at least hear some of the swearing-in ceremony. It was now 11:00 and we were pretty certain that we were not going to get in.
As we made our way toward the fence, I looked over to my left and noticed another entrance honoring Purple tickets and people were moving through the fence. We maneuvered over toward it and at about 11:35 a.m., we found ourselves within 10 feet of an open gate. The ceremony had begun and the crowd behind us began to push forward creating a few minutes of terror that we were going to get crushed.
What we didn't realize at the time is that there were thousands of other Purple Ticket holders stuck in a tunnel under the National Mall, directed there by police only to be stranded, most of them missing the inauguration. Most tragically this group was composed mostly of young staffers from the campaign, those that worked the hardest to get Barack Obama elected. This has become known as The Purple Tunnel of Doom.
We were some of the lucky ones, fortunately and at 11:45, we pushed through the gate, passed quickly through security and got a spot to stand in view of the podium just as Joe Biden was being sworn in.
We were standing (most appropriately in my opinion) right next to the Peace Monument to watch the ceremony, indicated by the smiley face in this picture: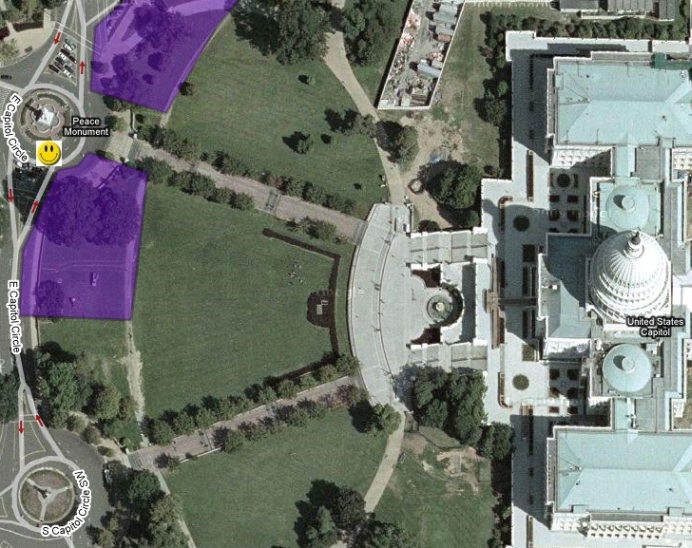 We listened and watched and cried and hugged and cheered and celebrated and photographed as we watched Barack Obama assume the helm of our country. His speech was fairly subdued but still amazingly inspirational. He was above all presidential.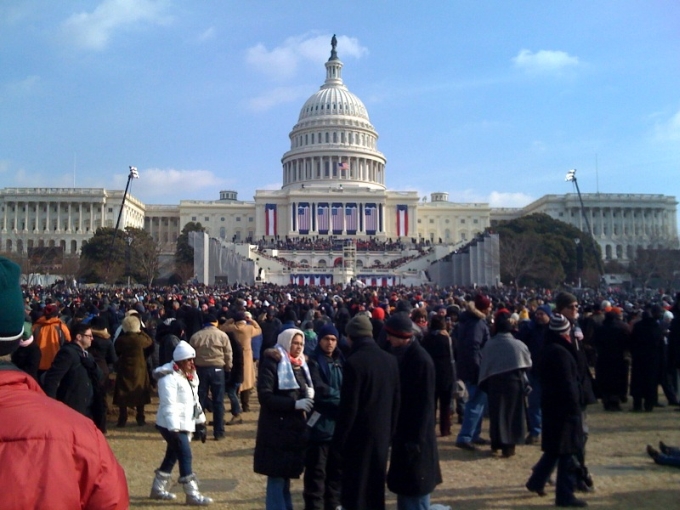 Being in that place at that time with nearly 2 million people all supporting our new president was a truly unique experience. After the speech, we managed to get through a barrier and a bit closer to the Capitol which allowed us to see back down the National Mall. A mile away was the giant spire of the Washington Monument and between it and us were about 2 million people. It was unreal. Truly unreal, actually; it didn't look real.
We left the ceremony, watching George W. Bush leave in a helicopter, the crowd waving good-bye and, in many cases, good riddance. It must have been an odd moment for Mr. Bush. Neither of his inaugurations had anything close to this many people in attendance and his popularity was the lowest of any exiting president in our country's history or very nearly so.
We made our way to a Metro station a mile or two away, stopping to buy a small bottle of Johnnie Walker scotch on the way ("antifreeze", the cashier laughed). We passed by dozens and dozens of people hawking everything from buttons, t-shirts and bumperstickers to calendars, books and even kitchen aprons sporting the visage of our new president.
Miraculously we got on a nearly empty train and made our way back to Virginia. Our gracious hosts, Julie and Dick, picked us up and we managed to get in a long nap in before putting on our evening wear.
As the sun sat, we made our way back to D.C., me in a tux, Mrs. E in a Ralph Lauren dress. The traffic was much lighter this time and we soon arrived at the National Museum of American History where the Michigan Ball & Dance was being held. Entering, we realized that the we had the entire museum for the Ball. Five floors with food buffets and drink stations on every level. A 15-piece band played and we saw everyone from dignitaries like our Senator Debbie Stabenaw and the mayor of Detroit to younger college-aged people, likely staffers from the campaign.
While waiting for drinks, I spied a familiar "painting" and we got someone to take our picture in front of it: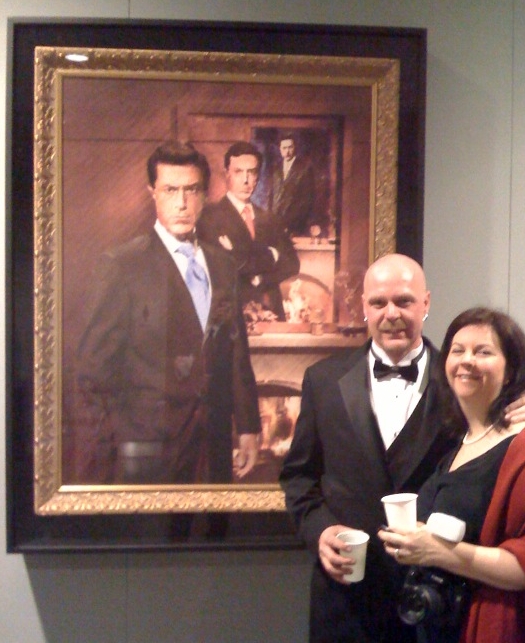 (A little history about the Stephen Colbert portrait
HERE
.)
Although we met up with a few friends during the Ball, we were mostly anonymous and that anonymity was actually pretty fun. We found the "First Ladies" exhibit and there on the wall was a picture of Michelle Obama. Several groups of people were there to view it and we had some very interesting conversations with them.
We finally left around 1:30 a.m. having had a quite surprisingly good time.
The next day, weary but completely elated from our most excellent odyssey, we made our way back to Michigan. At every rest stop people sporting Obama gear were present. In most of the parking lots were people selling buttons or other memorabilia. None of us wanted to let go of the moment.
---
Now that the campaign, election and inauguration have all become part of our nation's history, I have decided to write a book describing our adventure. Over the past 8 months so much has happened and so much has changed for us and the country that I feel it's important to record it. And I think Mrs. E and I have a somewhat unique perspective and experience to share. I'm looking forward to reliving it.
I'm just sayin'…